'Win must offer glimpse of NI's future after poor campaign'
by BGC Sport NI's Mark Sterling

Last updated on .From the section Northern Ireland
With so much more in between, it began with a Dion Charles goal and ended with one of the same goals.
However, eight months passed quickly, and Charles' goal at Windsor Park on Monday night, which was scored nine minutes early, gave Denmark a 2–0 victory that, in actuality, did little more than put an end to an awful qualifying campaign.
It appeared as though almost all of the post-mortems on this unsuccessful qualification attempt had been written before the group-winning Danes arrived in Belfast, despite the fact that it was marred by an injury crisis that severely damaged O'Neill's side.
Although it had no bearing on either team's final Group H standing—Northern Ireland was doomed to finish fifth despite losing seven of their nine outings—the victory on Monday night undoubtedly gave the depressing story a more upbeat tone.
O'Neill later thought, "Look, I'm not going to get carried away."
"With this team, we have a ton of work to do." We need to keep moving in the right direction because tonight was a positive step.
O'Neill has consistently emphasized the significance of giving the kids time to develop into international footballers despite the fact that influential players like captain Steven Davis and Stuart Dallas have sustained long-term injuries, forcing him to select from a very young and inexperienced squad throughout this qualifying campaign.
Monday night gave him the chance to reflect on Northern Ireland defeating a country 56 places above them in the world rankings, despite missing some key players and having already secured their passage to the finals three days prior. He had to explain three crushing 1–0 home defeats by Finland, Kazakhstan, and Slovenia.
A Windsor Park that had been rocking for the majority of the second half in a way not fully seen since the manager's first successful nights was also available to O'Neill.
He remarked, "It's wonderful to see the stadium full." "We want to be a team that people like to see and get behind." Home form was enormous to us when we were at our best, and it will continue to be enormous moving forward.
"I am aware of the significance of winning here for both the locals and the community. For me, the campaign has been difficult. I've had to examine who I am. Do we act morally at all times? We are, I think.
"Hopefully this gives us a glimpse of what might be ahead, even though it might not show right now."
"Perhaps having a lot of possessions doesn't suit us."
Interestingly, if Monday night provided a glimpse into the future and O'Neill was willing to consider the best strategy for his team, then it's possible that he will use that strategy more frequently going forward.
He acknowledged that the team had been set up defensively, which he acknowledged might not be comfortable at home and might be challenging for the crowd to accept, but that it might help him succeed.
The former Stoke City manager stated that knowing how to compete at this level and win is "the biggest thing for me."
We played similarly for 40 minutes, losing 4–0 to Finland in Helsinki, and I was pleased with that. The issue is how we handle and deal with falling behind.
It gives you energy and something to hold onto and protect when you move forward. We must understand that this is how we will have to play when we play teams of a certain level.
We must consider the earlier games in the group, when we had a lot of possession, and perhaps that doesn't work for us, he continued.
"Perhaps we perform better as a counterattacking team." We're attempting to resolve all of those issues with this group of players.
a challenging campaign to evaluate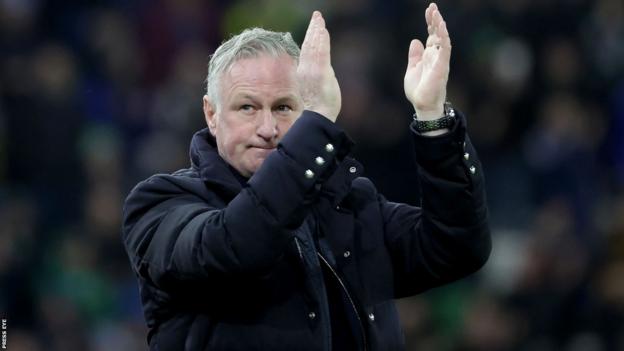 O'Neill thinks it will be very challenging to judge the recently concluded campaign because of the idea that things are still being worked out in terms of players and their strengths.
"This team is not being judged by you." He remarked, "It's not like we started with this team who persevered."
"We will need consistency in selection if we want to compete in any qualifying campaign." That cannot be avoided at all costs.
We lack the squad's depth. We don't have a player who plays his football at the same level as us if we lose him at that level.
"When we started this campaign, we thought we would have a different team, and younger players would surround it, really energizing it and giving us lift when we needed it."
Really though, we ended up playing many of those younger players more frequently than we had anticipated, but they were fantastic.
Source: BBC